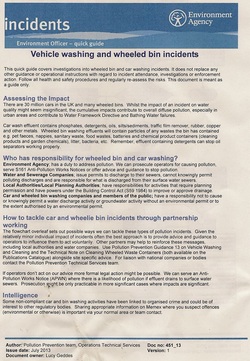 Click to read





Recently received from the Environment Agency.
The EA are clamping down on wheelie bin cleaners who wash bins out in the street. I would just like to say that we always have complied with their regulations so we won't be affected.
Another reason to use Bin There, Cleaned That.


---
Welcome to


Bin There,Cleaned That


We specialise in the cleaning of domestic and commercial bins. We are the only wheelie bin cleaning business promoted by Newark And Sherwood District Council,we are also registered with Severn Trent Water and the Environment Agency.

If your bin isn't cleaned regular it can quickly collect dirt and residue and omit offensive smells especially during the summer.

Bins are cleaned on a 2 or 4 weekly cycle,the same day as the refuse collection..

You don't have to be in when we clean,as long as long as we have access to the bin then the work will be carried out.

Only the cleaning of the household waste bins are carried out at this moment in time.

The cleaning process includes disinfectant and deodorising so its left germ free and smelling fresh.

We do not do one off cleans, sorry.







W

---